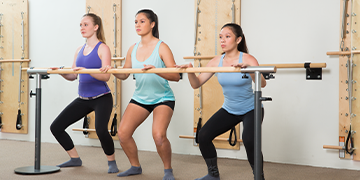 Total Barre™
No Tutus Required
Want to say goodbye to saggy arms, butt and thighs? Want a fun challenge to your workout? Total Barre™ is the grown-up version of the ballet classes you took as a kid. It combines dance with the biomechanics principles of STOTT PILATES®. Flow with the music while using the ballet barre, hand weights, toning balls and flex bands in this unique workout. Get stronger, have fun and become more graceful with Total Barre™. Pilates background not required. http://www.merrithew.com/total-barre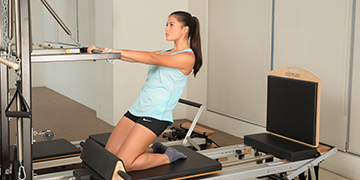 ZEN•GA™
Mindful Movement
Want to spice up your yoga or Pilates routine? A B+B Studio exclusive. Familiar yoga moves done on reformers will shake up your routine, unleash tension, increase coordination and bring clarity to your mind. ZEN•GA™ targets your deep movement system which leads to a more flexible spine, toned and balanced muscles, oxygenated organs—a healthier you both inside and outside. You will feel centered, light, refreshed…almost weightless. Pilates background not required. http://www.merrithew.com/zenga/about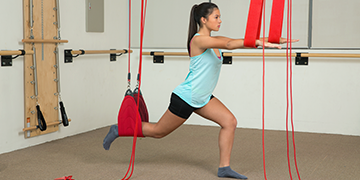 Redcord Active
Great results in just 10 minutes a day!
Want to take your exercise to the next level? Are you an athlete who wants to get better at your sport?
Redcord Active uses your body weight and cords which create instability, making your workout extra challenging. Think of the scene in Mission Impossible 2 when Tom Cruise was suspended in mid-air and you'll get an idea of what Redcord looks like. The exercises improve strength, muscular endurance, balance, coordination and core muscle stability. Redcord Active will push you to do what you thought was impossible.
Redcord Active can also be incorporated into your Pilates sessions, by request.
http://www.redcord.com/Portal.aspx?m=546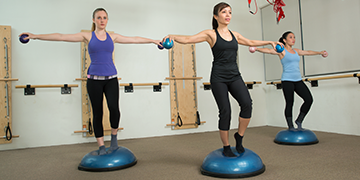 Cardio + Core
A fabulously fit body
Want abs of steel? Michelle Obama arms? Thigh gap?
Have it all with Cardio + Core, an intense workout that combines cardio exercises with core work. This develops abs of steel, sexy arms and shoulders, toned legs, a perky butt and a healthy heart. A fun and intimate group class taught by internationally certified instructors who are equipped to help you meet your fitness goals whatever they may be. If you're looking to challenge yourself, then you definitely have to try Cardio + Core.
Pilates background not required.

Lean Mama
Get your pre-baby body back!
Do you want to be a lean, mean mama machine?
We're joking. We know you just want to get leaner and stronger so you can be the best mama you can be. The Lean Mama workout focuses on reactivating and strengthening your abdomen, your much-ignored pelvic floor and back. Be more flexible and regain your stability after pregnancy. Reconnect with your self so you will feel more confident and have more stamina to face the challenges of modern motherhood.

The Wedding Workout
A fit and blooming bride
Your dress is ready. You've finalized your guest list. And now it's time to focus on you.
Make sure you look your glowing best, both inside and out. Keep those arms sleek, that tummy taut, shoulders strong and legs long so you can look beautiful and be able to withstand the rigors of a memorable day. The focus on breath work will also help you feel calm and centered during inevitable Bridezilla moments. Increase your energy, improve your posture and balance with this wedding workout like no other.